Wednesday, September 26, 2018, 7:30 AM - 7:45 AM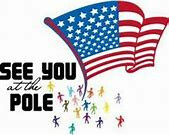 See You at the Pole is a student-led, student-initiated movement of prayer that revolves around students praying together on the fourth Wednesday of September, usually before school and usually at the school's flagpole. It involves students in elementary schools, middle/junior high schools, high schools, and colleges/universities all over the world.
Also:
The sanctuary will be open for prayer on September 26th, from 6am - 8am for anyone wishing to stop by and pray for our schools, teachers and students. Stay al long as you like, or just pop in and out. It's possible there will be coffee.